Shen Yun Reviews: 'A complete edifying experience of the human spirit'
- SAYS FORMER SENIOR MANAGER FOR THE GRAMMY AWARDS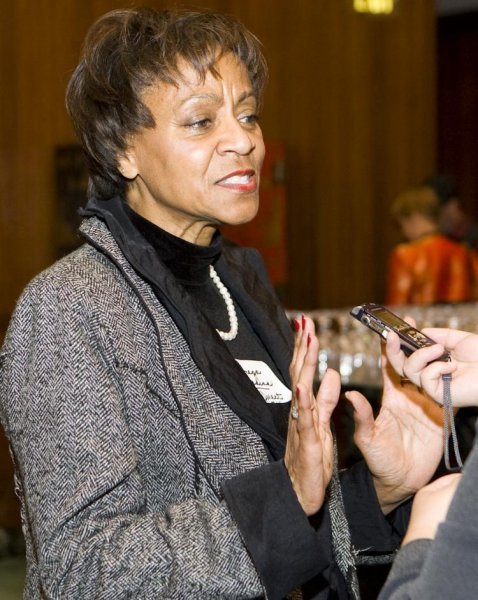 LOS ANGELES—Shen Yun Performing Arts second performance at the Dorothy Chandler Pavilion in the Music Center deeply touched the heart of Omega Medina, a well known figure in the music business.
"I really didn't expect it to be this spectacular! I expected it to be very, very good. But I come away with feeling like a better human being. And I think it's because the level of the exquisite beauty. It is absolutely astonishing to see the colors. To see the discipline, the skill that these dancers, you know, execute these very difficult maneuvers. The choreography is beautiful and the graphics I thought were so interesting. It was so well incorporated into the whole picture. I just felt it was a complete edifying experience of the human spirit," said Ms. Medina at the VIP reception following Shen Yun's performance.
Ms. Medina has a long history in music. She first graduated from Hartt College of Music with a B.M cum laude, and then earned her M.S from The Julliard School. She is also a trained soprano and has performed recital and opera repertoire. She then went on to work for The Recording Company where she was the Senior Manager of Classical Music for the Grammy Awards. Ms. Medina is currently on the Business Advisory Council of Young Musicians Foundation, and is the President of the Jury for the Carter Larsen Hollywood Piano Competition.
Having been in the entertainment business for many years, Ms. Medina felt refreshed to experience something not associated with the current pop culture.
"It just took me to a place that I don't get to often in our pop culture. In our secular culture. It was so refined and cultivated that I just feel richer. Richer in the good sense."
Ms. Medina appreciated multiple dimensions of the artistry, and she said "What really stands out is the overall cohesiveness of the execution, of the dancers and singers. And the scenery, the costumes, everything worked together. And it produced for me an enchanting experience.
"Visually, the colors are just so calming and yet they're vibrant, at the same time. And I just thought that the performance was brilliantly designed. ... I feel like a better human being because it speaks not only to my intellect, but it speaks to my heart … I feel like a good human being for having experienced this magnificent event. It's educational … just was a special treat for me," said Ms. Medina.
When asked why Shen Yun was able to touch her heart, Ms. Medina replied: "I think some of it is attributed to the calming effect of the colors. And I also think it's the execution and the creation of the dances. They're so elegant. And when you have graceful movement, you receive it better. It's not harsh, it's not crass. It is not aggressive in the sense that it's vulgar. No, it is on a higher level."
A common concept in ancient Chinese culture that Ms. Medina saw from the performers is that true beauty stems from the inside.
"The beauty is innate, it comes from within, and you can see it. It just transcends everything and it comes through the movement. It comes through that whole package being choreographed, being executed to the best and skillful way. It just makes, I think the audience feel that much more elevated. It edifies the audience. I just feel blessed. May I say that? I just feel blessed having been exposed to this level, this caliber of performance," said Ms. Medina.
Ms. Medina also appreciated other aspects of Shen Yun.
"And the education. I was so glad to see representation from Tibet. Mongolia. You don't see this, and I've been to China. I was there about a year and a half ago." She continued, "The artistry in this is what peaked my, I would say, the muse in me, you know. The level of the artistry and the execution … Just, everything was so well done and so beautiful."
Over the years since 1949 China's authoritarian regime has tried to destroy the true traditional arts of the Chinese, and it is the mission of Shen Yun performing arts to revive this lost cultural heritage.
Shen Yun performing arts is consciously independent from the Chinese regime, and currently cannot travel to China, but hopes to do so in the near future. Ms. Medina thinks it's essential for Shen Yun to travel to China.
"I think we have to find ways to get it so that the people of China (there are over a billion people there) can experience what we here who have freedoms which we sometimes take for granted can experience. I mean, this is something that is above and beyond politics because it is art. And art transcends politics. That, you know, the boundaries don't exist. We obliterate the boundaries. Be they political, social, economic, what have you. This is art. And everyone should have the right to see and experience art," said Ms. Medina.
In closing Ms. Medina said: "Stunning. Everything about it was stunning. And I can't wait till next year. I don't, I can't imagine what they're going to do next year but I'll be here so I'll find out. Just wonderful. And thank you. It's an honor to be exposed to this caliber of talent and I just wish everyone will continue to keep focused, because the message is very clear. Thank you."
May 10, 2010