Shen Yun Wraps Up Five Sold-Out Shows at Lincoln Center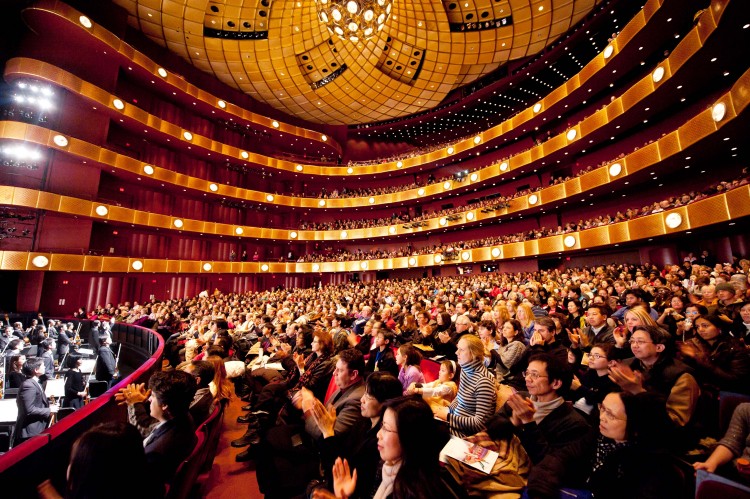 Shen Yun performed at Lincoln Center to a sold out audience. (The Epoch Times)
The Shen Yun Performing Arts Touring Company completed its run at Lincoln Center's David H. Koch Theater in New York Sunday. All five performances were sold-out and concluded with standing ovations that required multiple curtain calls.
New Yorkers who missed last week's performances, or who could not get tickets in time, can take solace that Shen Yun will return to Lincoln Center for six more performances in April. Tickets are now on sale.
Well represented at last week's Lincoln Center shows were members of New York's artistic community.
"It's an extraordinary production," said Oleg Briansky, founder-director of the Briansky Ballet Center. "Wonderful entertainment—beautifully rehearsed, and beautifully staged."
"The music was superb," said piano virtuoso Kelly Lin, as was "the way the music and dance were melded into one."
"The poetry is in the lyrics and in the dance movements and the colors," said celebrated Chinese poet Huang Xiang.
Particularly impressed with the animated backdrop was Vivian Van Dijk, Editor-in-Chief of EYES IN Magazine, a publication serving the graphic design and visual culture industry. "The background is integrated in the stage and there's a lot of digital features on it that I've never seen before and that makes it very stunning and very real," she said.
CNN producer, Michelle Murtaugh said, "The costumes were beautiful. The music was stunning. It was visually sensational."
One gentleman from Mainland China, surnamed Wang, attended the show in New York after six years of being unable to see it due to censorship in the People's Republic. He was not disappointed. "From the orchestra to the singers, the dancers, costumes, backdrop… it was perfect, without any faults."
For some Chinese Americans, like Derek Wong, the show was an experience of "getting back to our roots," but the performance's universal spirit resonated with audience members of various cultural backgrounds.
"My one word about today was—inspiring," said Kenyan Ambassador to the United Nations Dr. Josephine Ojiambo. "It definitely is a performance that can draw many, many people from many walks of life," she said, adding that she wishes Shen Yun can come perform in her country soon.
When Shen Yun will make it to Kenya remains to be seen, but what is already set is that the company will return to Manhattan and Lincoln Center April 18-22 for shows that are, again, expected to sell out.
Click here to buy tickets for Shen Yun's Lincoln Center shows in April before they sell out.
January 18, 2012