Shen Yun Reviews: China Expert: Shen Yun is a Must See Show, Experience it Live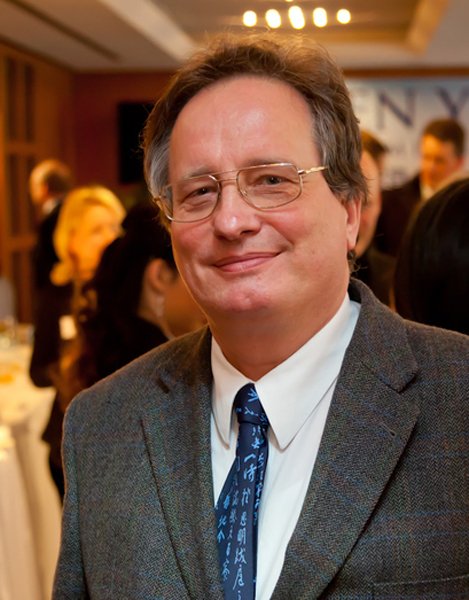 FRANKFURT—"I originally thought my health could endure only one hour of the show, but during the performance I felt better and better. You know how happy I feel now?" Juris Doctor Thomas Weyrauch said after watching Shen Yun Touring Company's second Frankfurt performance. Dr. Thomas Weyrauch of Germany is a China expert and author of "Gepeinigter Drache – Chinas Menschenrechte im Spätstadium der KP-Herrschaft" (Anguished Dragon– China's Human Rights in the Late Stage of CCP-Rule) and "Chinas unbeachtete Republik"(China's Unnoticed Republic).
Due to work-related stress, Dr. Weyrauch took ill last November and has been of poor health since. "I feel wonderful now. I'm full of happiness and hope," he said.
"I felt an immense energy. These dancers aren't simply dancing. They are manifesting their true selves. You must watch a performance like this live! Video or television absolutely cannot substitute. I'm very thankful that I listened to a friend's advice to come see the show."
Putting up his hands, Dr. Weyrauch said, "I was applauding nonstop… you see my hands are still red from clapping."
Dr. Weyrauch's China research began twenty years ago while he was writing his law school thesis. From 1989 to 1990, he represented the Duisburg government, acting as the China expert to Duisburg offices in Chinese cities. Over the next twenty years, he has continued his dedication to China issues and authored numerous publications.
In "Anguished Dragon" Dr. Weyrauch presents extensive research on China's human rights situation. He also analyzes why the Communist Party is the root cause of human rights violations in China and the party's unavoidable future collapse.
He said, "According to my knowledge of China, I know that Shen Yun's dances aren't merely an artistic presentation, but really an in-depth display of the true China. This is also a most unique aspect of the show. I've seen many Chinese performances. I was touched by some of the performances and concerts, but I was never moved so deeply as I was today. Today, I felt the true impact of the real China. The programs stirred me again and again. I was constantly trying to keep myself contained, but in the end I couldn't control myself. I cried. The persecuted teacher reminded me of my grandfather who was persecuted by the Nazis, and of my friends in China who are also being persecuted."
He continued, "I liked this kind of deep emotional impact. It's what I needed. Today was my first time watching Shen Yun, but I know it will definitely not be the last."
Speaking of Shen Yun's display of genuine traditional Chinese culture, Dr. Weyrauch said, "The performance is like a condensed epic poem that unfolds China's long traditional heritage and history. It also shows the conflicting reality of the destruction and fight against this heritage in China today. I think it's wrong to view the Communist party as China's government, because the current government is anti-China. They have destroyed China's culture. The current Chinese government is a Stalinist foreign domination. The Chinese people have endured for too long, and now it is time to break away."
March 12, 2011